One of the blogs I follow has a page for '
Gratitudes'
- little things she is grateful for - and she posts nearly every day. It is so easy to remember the big things, or even the negatives, that you can forget the little things that make you smile. So I am following her lead...
Today I'm grateful for:
26th May 2019
A leisurely day knitting and watching F1 and Indy 500 (do those pastimes sound like they should go hand in hand?)
Pre-cooked rice sachets
Impossibly sweet little creatures
25th May 2019
Hand quilting tools don't weigh very much.
Home in time for the F1
Kathryn kindly called into the workshop to show her Durham Quilt
24th May 2019
Getting shopping on the way home from work so I don't need to think about that over the weekend
Everything is ready for Quilting Workshop tomorrow - no last minute panics
Not feeling guilty for falling asleep in from of the telly
23rd May 2019
22nd May 2019
A clear road when both John and Steph had forgotten their work keys
The grumpy people in my life are far outnumbered by the lovely people
Fig and walnut bread from Lidl
21st May 2019
Electricity and batteries
No-one tells me off when I eat a packet of crisps and drink a can of beer instead of eating supper
Catch up TV - I didn't realise the Great British Bake Off - The Professionals was on again
20th May 2019
Leafy trees, sunshine and a breeze making dappled shadows on my walls
Rummaging in my freezer and finding some hidden gems
Brothers on a walk
19th May 2019
Will fitted my new microwave and took the old one away, not posh but functional
A good drying day - duvets and mattress covers wash too
Relaxing with some light knitting and a cup of strong tea
18th May 2019
Brendie one, computer nil - ha!
The wonderful aromas of herbs as I plant them - mint....... mmmmm
No brain TV series
17th May 2019
16th May 2019
Making muesli bars - a simple but tasty bake
The patience of John when I put my foot in it
Pretty flowers
15th May 2019
14th May 2019
Raising a glass on the anniversary of my lovely Mummy's birthday
The freedoms we enjoy in this country
A little delivery from LucyLocketLand
13th May 2019
Getting things done before time - not rushing
Clean fresh water to drink, never mind all those 'flavoured' abominations
Reading evocative poetry
12th May 2019
The sound of blackbirds at 9.30pm
Fresh eggs for breakfast
11th May 2019
A quiet morning stitching
Feeling a little more energetic
Going to the Heineken Rugby Cup Final with John and Steph
10th May 2019
An early finish today - it's been a marathon fortnight
Finally getting the hang of spinning on a drop spindle - do I get my wheel out of its mothballs?
Baking a Victoria Sandwich before work - its' Cake Friday! (and I saved a quarter for Will whose all time favourite is this very cake)
9th May 2019
The rainy morning blossomed into a sunny afternoon
Dewdrops on leaves
Coffee cake - haven't made one of these for ages
8th May 2019
Enjoying my golden hour in the morning - as of 1st June I'll be leaving for work two hours earlier - arghhh! (I'm not getting up at 4.30am to have a golden hour - no sir)
A good vacuum cleaner ( I hate shoddy products with a passion)
Little contrast stitches - orange on navy
7th May 2019
Two years of working with my youngest son
Tuna cheese melt for lunch
Watching YouTube for ideas on how to improve my spindle technique - not a hard task!
6th May 2019
Finishing the gloss-work I'd planned over the weekend - Steph is doing the skirting boards (phew!)
Getting better at spinning on my drop spindle
Starting on a new sample - it might be a present too!
5th May 2019
Audio books to keep me entertained when painting 25 miles of dado rail
All the blossom - so beautiful
4th May 2019
Dado rails undercoated
A takeaway Indian
Fine weather - not too hot and not too cold
3rd May 2019
Day One of the re-paint - all lower walls done
Everyone having lunch at the same time
The feeling of everyone pulling together
2nd May 2019
Laughing and putting the world to rights with my quilting friends
Getting ready for a long weekend
Being organised and making malteser tray bake before work
1st May 2019
24th March 2019
The calm after the storm - having two small boys running around and being able to stay sane has always been a mountain for me
I finished my Brioche Shawl
Ben playing Pizza slaps
23rd March 2019
A few hours quiet in between work and the boys coming for the night
Cuddles, pizza and jigsaws
Max stayed in bed until 6am despite being awake at 3am - only one night for me, every night for Steph and John
22nd March 2019
Max is feeling a lot better after a nasty cold/fever
Friday tidying up of loose ends at work
Oh my knitting mojo - soon to be a tah dah!
21st March 2019
Just having a really good laugh
The back terrace is looking good - no rain yet to check that the fall is going in the right direction, as distinct from straight towards the house
Will is clearing the last few tools from the sun lounge - a lick of paint soon and we'll have another usable room
20th March 2018
John didn't lose his rag when Steph and I accidentally disabled the server in the middle of clinic
Detecting sustained signs of spring
A new set of clips to replace the set that went AWOL
19th March 2019
A friend is relaying some flagstones outside my back door
Planning the herb pots and seating on the newly laid terrace
Some stunning blue skies amidst the hail, wind, rain and brimstone
18th March 2019
John didn't get annoyed when Steph and I accidentally messed the network up
A good second week with the weight loss
Managing to get a photo of my latest quilt despite the bad light
17th March 2019
Having a quiet day all to myself
A little stitching, a little knitting and some chatter with my best friend
Watching the first F1 of the season - my favourite driver won!
16th March 2019
A slow stitching Saturday afternoon with Alex
Noisy birds in the garden
15th March 2019
Cosy cardigans when the wind is icy
Watching the F1 2019 season opening shows
Finding a lovely little kilner jar for transporting my lunch
14th March 2019
Bright sunshine despite the cold wind
Seeing the buds on my plum tree
Getting ready for Red Nose Day
13th March 2019
The warm feeling we get when patients are so excited about how much better they feel
Central heating - that wind is icy cold
Fabric, yarn (and the sense of touch)
12th March 2019
Browsing through knitting books at 6am
A cup of hot chocolate - weighed and measured of course
Finding a design of side plate I love to replace my dwindling collection - love the White Company
11th March 2019
A successful weigh in - Week 1 down and 11 to go
Meeting weird and interesting people
A new book to listen to
10th March 2019
9th March 2019
8th March 2019
Being able to Whatsapp a happy birthday wish to my cousin who is in Hong Kong at the moment on his way back from a trip to Australia
Clear roads (ok, where have all the cars gone this morning?)
Green Lentil Salad with Aubergines and Halloumi for lunch
7th March 2019
The blackthorn bushes are in full blossom- a welcome sign of things to come
4 days down successfully towards the lighter me
Redcurrant Jelly and White Chocolate Cupcakes
6th March 2019
Getting a lot done before I went to work
We haven't killed the orchid at work yet
Getting ready for the embroidery
5th March 2019
2 days down 88 to go ( I jest - the rest of my life to go)
Getting loads of stuff done at work for once instead of running around like a headless chicken
Which book shall I start first? A haul from my visit to Karin
4th March 2019
Monday is diet day! 1 day down 89 to go
Finished quilting the little baby quilt - ready to embroider words
Email from Amy before she is off to America
3rd March 2018
Lunch at John's with Will Alex and Gemma (Steph's sister)
Getting back and feeding the hens before the rain set in
Cosy night listening to the wind and rain outside but huddled under my duvet
2nd March 2019
Seeing old friends
Having left-overs to warm up so I don't have to stop stitching
1st March 2019
A little gift of a homemade Bourbon Biscuit and a Cranberry Pistachio Cookie from Alex waiting for me at home after work
A weekend without plans ahead of me
Chapel View Crafts stitch markers
28th February 2019
Back to quilt class - a new lady came tonight
Will brought me a big pile of parsnips
Nearly half way up the shawl
27th February 2019
Back to work after the break - gets me out of the house!
Daffodil watching as they all come out of hibernation
Still squishing my new yarns
26th February 2019
Making it to the filling station when my empty light had been flashing for 5 miles
The good feeling a clean car gives you when you've made mess over a long journey
Chicken fried rice for tea - my English version with bacon and peas
25th February 2019
Two days off work to do a million things or nothing at all
The beautiful spring weather bringing out insects and butterflies
Getting the hang of brioche stitch
24th February 2019
A good journey home in one hop and the whole visit done on one tank of diesel - just!
John fixing my dripping shower and Will keeping my house safe
My slightly shabby, very homely, very familiar little house - a journey away always makes home special
23rd February 2019
Lovely trip to the cinema - film was only ok though! Instant Family - typical American formula
Being patient with Brioche Stitch increases
Getting some little plants for my garden from Karin- Hellebore and a little Campanula
22nd February 2019
Fog lifting to reveal a lovely sunny warm spring day
Meeting a lovely knitter with a beautiful booth
Getting some spinning tools
21st February 2019
A safe journey and uneventful too
Plenty of talking lubricated with a little Prossecco
A sound night's sleep
20th February 2019
Will for house-sitting and hen keeping
Fine weather again
Finding a home for my oversized hat (with a Rasta friend! - perfect)
19th February 2019
Cumberland Pie for tea
Coping with strange and unpredictable patients - it all adds to life's rich tapestry - think Jack Nicholson in Something's Gotta Give
Seeing little daffodils poking their pretty heads through the earth
18th February 2019
A really easy journey into work - love school holidays
Still stretching out into my space
Ordering pretty thread for the linen and lawn quilt
17th February 2019
Will and Alex safely back from the Lakes having really enjoyed their break
Lots of quilting done on my little Linen and Lawn quilt
Purple flowers are finished (I forgot how much lilies stink but couldn't bear to throw them away)
16th February 2019
A 'free' Saturday - no must-do tasks (apart from feeding Will's animals)
Standing in Will's garden on top of a high hill breathing fresh crisp air
Spending a whole afternoon with my sewing machine
15th February 2019
A takeaway indian meal at the end of a long week
My crafting space is resumed after a month of sharing
Finding a lovely piece of wadding I bought at Sandown 2 years ago, for my Linen and Lawn Baby Quilt - Hobbs Orient - Bamboo, Silk, Tencel and Cotton - ahhh



14th February 2019
Max safe and sound after his operation
A lovely bright sunny and warm day - just like Spring
13th February 2019
Whistle stop day - everything achieved
Stretching back into my space as John, Steph and the boys spent their first night in their new home
Decorating the room we hire for our satellite clinic, plenty done, plenty to do
12th February 2019
True belly-laughs - the happiness hormone is produced - one per day minimum requirement!
Being able to record the TV when Shetland and the Great British Sewing Bee are on at the same time. 9pm on Tuesday night must be my type of slot.
Squeak - a new book to fuel my rekindled knitting mojo
11th February 2019
Nice day at work - covering Steph's day as she was supervising carpet laying
Enjoyed a nice meal of crispy bread and cheese with John - the last before they move out
Prepped some fabric for a zippered bag before I went to work
10th February 2019
Bright lovely sunshine
Sunday Dinner with all the family gathered around the table
A quiet afternoon with Alex, making yarn cakes
9th February 2018
Running round the garden with Ben and Max - gosh the grass is wet!
Macaroni cheese for supper when I thought there was nothing in the house to eat
Crochet Squares are stacking up!
8th February 2019
Another good day at work. It's good to enjoy what you do
The decorators have finished John's painting so all excitement to move in on Tuesday
An early night after a rather tasty little bottle of cider
7th February 2019
The bright sunny day after an unpromising damp grey start
Smarties eggs - yes I have started early
Ann's Sew Demented Bag is coming on well despite forgetting her glasses and borrowing someone's holiday reading glasses!
6th February 2018
Managing to stay awake (I'm having a very lethargic winter)
Getting stitching done before the planned electricity works cut off the supply
Getting some stitching done at all
5th February 2019
A steady day at work - no headless chickens here thank goodness
A new book - Secret Relations by Rebecca Forster
4th February 2019
Finally I've cracked a quilt pattern which should have been simple
Lots of washing done and blowing in the fresh (i.e. freezing) wind today
Being able to ignore pompous people - it's taken a lifetime!
3rd February 2019
A nice relaxing family day
A rapid thaw - only a little snow and ice in the shady places
Varying thicknesses of yarn keeping me on my toes - 5mm hook and 2mm hook
2nd February 2019
The roads were clear enough to drive to the yarn workshop
Spending time with my lovely sister-in-law
A naughty but appropriately British Winter Lunch
1st February 2019
Little silicone moulds for making soap arrived today
Everyone safe home after a few inches of snow fell
I finished my home dyed yarn cowl today - just to be blocked now
31st January 2019
(After being grateful for no frost yesterday) The car was warm enough to drive safely (i.e. I got the inside windscreen defrosted) after 20 minutes.
Watching everyone working away at their projects at the quilt class
A new recipe - orange ricotta cookies which actually tasted more like moist scones
30th January 2019
No frost
A productive morning before work
Pink and blue - my first little project bag holding my first hand-dyed yarn project
29th January 2019
Using my new lotion bar - definite favourites are orange oil and lavender
Getting a pattern in the post I'd promised to send last week....
A new series of 'Shetland' is coming soon - love brooding detectives!
28th January 2019
Keeping my cool when I dropped stitches on my cowl.
Having an abundance of little boy cuddles
John making chicken fajitas with guacamole for tea
27th January 2019
Warm clothes when the wind is biting cold
My little cowl will be finished before I go on the dyeing workshop this weekend
Making solid hand lotion with Alex and her lovely friend Sal then having lunch with them and Will
26th January 2019
John and Steph got the keys to their new house
Feeling a bit more like making an effort to clear and sort
The tickets arrived for Un Ravel
25th January 2019
Clear roads to work after a week of traffic jams
Laughing with some particularly nutty patients at work
A takeaway curry and some prosecco after a long day and then early bed
24th January 2019
23rd January 2019
Lovely moon and bright starry nights
A good car heater
22nd January 2019
Being a patient person most of the time
Getting lost in a creative world - being able to get lost in a creative world
Jelly beans when the day has not been kind
21st January 2019
20th January 2019
Everybody went to Will and Alex's new house for our first lunch together there, including Ben's cousin, Grace
A roaring fire to keep us warm
A quiet knitting session when everyone went to bed
19th January 2019
Time to relax at home
Bright fresh weather - that clean crisp air you get at this time of year
Getting to grips with the Sew Demented Bag (well almost)
18th January 2019
Getting a good haircut - it was a long time between this time
Coming home to gammon, egg and chips, compliments of Steph
A new book
17th January 2019
Not quitting when things are piling up - grit girl, show some grit!
Sweet little voices in the morning
Sunshine after the snow - a view from my window at work
16th January 2019
House move Part 1 went off successfully - both shattered and everyone installed in their temporary rooms
These past few days have made me take stock of the junk I have accumulated. Let operation de-clutter begin!
The forecast rain held off and it was all pretty sunny
15th January 2019
Almost ready for the family fortnight (decorators willing)
Some sunshine today ahead of a pretty dreary forecast
14th January 2019
Picking the boys up from school and getting to play with them
Making Pasta Bolognese - enough for Will and Alex as well as John, Steph and I
A new audio book
13th January 2019
Shopping before the crowds arrive
Sorting through drawers and laughing at myself for the stupid things I keep
Enjoying the last few hours of peace before John, Steph, Ben and Max stay between house moves........ you can do this, you can do this, you can do this.........
12th January 2019
Enjoying podcasts and vlogcasts - there is a lot of work behind those scenes
Making progress with my little cowl - rescuing mistakes as they happen and learning to ignore the ones that happened too far down!
Picking out fabrics to make a zippered pouch - the dark one is actually royal purple
11th January 2019
Peaceful mornings stitching and knitting before work
Being able to shrug off when people are rude to me
Left-over cake
10th January 2019
Being back with the lovely people at Thursday night class
The internet
A book I ordered for my Kindle last June and forgot about until now
9th January 2018
Finding someone with more ridiculous things in their handbag with me - a full size stapler??
Looking though seed catalogues
A delicious meal - chorizo frittata from fridge leftovers



8th January 2019
Some lovely morning skies - azure blue and pearly pink with earlier light each morning
Helping untangle Alex's wool and getting to see the lovely colours she used as it emerges
Snuggling warm under home-made blankets
7th January 2019
A quiet morning with Ben before work
Really enjoying the knitting - 12 rounds of 96 completed
Finding some nice little storage tubs from Aldi for hen food (it's the little things in life!)
6th January 2019
Waking up with two babies cuddled in (Mammy and Daddy are packing ready to move on 16th)
Late delivery of stocking fillers (yes they do make me a stocking, but not always on Christmas Day)
Time later in the day to knit the yarn I dyed yesterday
5th January 2019
Getting the house tidy after taking down the Christmas decorations
No more biscuits to munch
Having lunch with Will and Alex and then going on a yarn dyeing workshop with Alex
4th January 2019
The end of a 24 hour bug - I always get one in January
Reading comments on Google that people write about John's healing powers (proud Mammy)
An expected emotional response to the book I just finished
3rd January 2019
Understanding friends.
Being able to crawl into bed when a bug strikes
Fresh food
2nd January 2019
Being back to work normal hours - loved the break, missed the routine
Knowing which day it is without having to look
Planning this month's 'makes'
1st January 2019
Not being superstitious since both boys forgot my ritual of first footing- hey ho
Enjoying an impromptu takeaway Chinese with Will and Alex
31st December 2018
Remembering the good things over the past year
Gentle laughter with my family
Toasting the new year in and remembering all those no longer with us (I couldn't finish the whisky - getting feeble in my old age!)
30th December 2018
Finishing Ben's Corner to Corner Blanket
All the Christmas food is eaten - apart from some biscuits


29th December 2018
Dry, bright and windy weather - fresh and clear
Will putting up a new roosting bar for my hens
Being able to send eggs home with him - no boxes, so just in hay which can be given to the rabbit
28th December 2018
A really quick commute as everyone is still on holiday
Juicy mandarin oranges
Having time to watch podcasts and crochet
27th December 2018
Spending a frenetic morning with Janet
Spending a quiet afternoon on my own!
Collecting a little haul of eggs
26th December 2018
A peaceful day, no cooking, no hassle no tasks
The company of my two boys at various times during the day
25th December 2018
Sharing Christmas with my lovely family
Such thoughtful and gorgeous presents
The Christmas morning moon
24th December 2018
23rd December 2018
22nd December 2018
Closing the doors at work for five days and having time to catch up with my blog
Lunch at the Turkish restaurant after work with John, Steph and the boys
More delicious eggs from my hens - such lovely creatures
21st December 2018
All the gifts and thanks the patients have brought in for us
Putting the finishing touches to the last Christmas orders
Getting the last present ordered through the post - only one to come.
20th December 2018
All the ladies at my Thursday class - such lovely people
Making more headway with the last Christmas Stocking order
Sunshine on the eve of the shortest day
19th December 2018
Preparations for Christmas well underway
Baking millionnaires shortbread ahead of time
Watching the finals of Masterchef the Professionals even though my favourite was knocked out
18th December 2018
An excellent day at work, good business, good laughs, good time
A good audio book when I got stuck in traffic (The Au Pair by Emma Rous)
Finally getting round to making a 'sleeve' for my wrapping paper rolls
17th December 2018
Having a very productive day even though I got called in to work just after lunch
Cutting out the last stocking orders
Delivery of my new little table (handles and baskets to finish)
16th December 2018
Getting some heavy shopping done for Christmas - non-perishable stuff and bits for the freezer
Charging the batteries a bit
15th December 2018
A quiet afternoon at home after work, doing mostly nothing
Nearly all the presents are bought
A pearly pink morning with a white end to the day
14th December 2018
A quick trip into Newcastle to visit the dental hygienist with enough time to buy cushion pads for my Scandi Christmas cushions (I don't get out much)
Christmas parcels with handmade stockings in have been received at their destination
Laura Ashley 50% sale means I have a new set of bed linen (white but taken in the dark!)
13th December 2018
Rushing around but not like a headless chicken
Alex coming to class and making bunting
12th December 2018
More eggs from my new hens - plenty to bake with this week
Good stitching time
Watching my little star - remembering his daddy doing the same - looking around for his mammy and giving that proud happy smile that we were there to watch. Not a dry eye in the house
11th December 2018
Sending off the last of the Christmas stocking orders
Watching a selection of Vlogmas contributions
Roast Pumpkin soup
10th December 2018
Finished my Christmas cards (It's usually about 18th December so I'm ahead this year!)
Chattering with Will
Finishing my Linden Bee Shawl (and wearing it - so soft and warm)
9th December 2018
The family arriving in force for an impromptu lunch, the chatter, the laughter
The silence after the family left - ha!
Alex stayed and we sewed together. Alex made little stockings
8th December 2018
Sunshine today makes the soul smile
Seeing the bottom of the ironing basket
Making tassels, drinking Ovaltine and eating home-baked cookies
7th December 2018
Staying up late and switching off my alarm before I go to bed
Max and Steph called in to work so I got a lovely cuddle to set my day up
Powerful writing, although I'd like a solution too.... although I suppose that's up to us
6th December 2018
Hot fresh ground coffee to drink at work
The different patterns made by car tail-lights - so many designs!
Stitching little Christmas Trees
5th December 2018
Starting work at 2pm so not having to go out first thing in the morning when the weather was atrocious
Watching my little hens picking up their petticoats and running when I bring them dried meal worms as a treat
Nearly finished another stocking order
Being able to laugh at myself for being a silly mare (increasingly often!)
Seeing a patient walk in to the clinic without his walking stick for the first time
Marvelling at the icy patterns on my windscreen even though they made me late for work
3rd December 2018
Continued the chill with Monday off work
Home deliveries for groceries that are too heavy to haul
Not feeling guilty for leaving the ironing
2nd December 2018
Some bright weather today to burn away the blues
The chill out that was much needed - stitching, surfing catching up on recorded telly
New laid egg for breakfast - my favourite, poached on buttered toast with a grind of black pepper, compact white and golden lush yolk. Mmmmmmm
1st December 2018
Steph and I are swapping Saturday shifts and I look after the boys whilst she goes in to work with John (not sure who has the easy task though!)
Crocheted through the evening until my wrist ached - just because I could
30th November 2018
A fix-it day at work allowed an empty 'out-tray' for the weekend
A takeaway indian meal because Will had eaten the new-laid eggs I had been coveting all day
A lightened mood as work gets back to some normal organisation
29th November 2018
A visit to Will and Alex's house this afternoon to meet her mum and dad who are just as lovely as she is
Feeling a bit more organised
The new hens are settling in
28th November 2018
November at work is hotting up after a quiet start
My car - being able to get somewhere quickly and easily is vastly under-appreciated
The quiet before the storm - morning grey and still, afternoon wet and windy, really windy
27th November 2018
Swapping a shift with Steph and picking the boys up from school
Ben was so excited to use my sewing machine
26th November 2018
Remembering a first date 42 years ago and not shedding too many tears
Not beating myself up for not being organised
Finishing off Christmas presents ready to be sent by post (well nearly)
25th November 2018
Having breakfast with Will
Watching the last (😞) F1 race of the season in peace!
Passing the half way point on Ben's little corner to corner blankie
24th November 2018
My Saturday off means I can rest my sore knee
Making gentle plans for the rest of the weekend
Starting a new book
23rd November 2018
Catching up with a friend at a rugby match
The kind person that helped me up when I launched superman style over a bumpy pavement
22nd November 2018
Good audiobooks get me through traffic jams to and from home
Enjoying the plans for Christmas without the hassle
Maple Pecan Squares - my nod to Thanksgiving
21st November 2018
Getting prepared for the class - baking and patterns made
Sharing broth for lunch with Will, John and Steph (unexpectedly)
Nearly finished stocking orders with more to come
20th November 2018
Listening to the sound of rain pattering against my window as I lie in bed
A lovely hot cup of fresh brewed coffee
Doing my 'homework' for the staff meeting in a timely manner- Chapter 5 and 52
19th November 2018
A new girl at work is jolly and works hard
A cottage pie was ready and waiting for me to heat up after work
Some gorgeous little stitch markers arrived in the post today
18th November 2018
Finished my Linden Bee Shawl - just need to block it and make the tassels.
An almost quiet Sunday
The off switch on my phone and television - Black Friday - Huff huff

17th November 2018
16th November 2018
Max planted a big kiss on my mouth. He cuddles all the time but this is the first kiss
More orders coming in for Christmas stockings - I love making them
Cherry-Heart's Podcast - like a friend chattering to you
15th November 2018
Swapping good reading ideas with a polymath
Being better organised on a Thursday afternoon
Seeing someone's beautiful work and attention to detail (more pics at the weekend)
14th November 2018
Starting work later on a Wednesday
Lashings of hot water - how lucky are we??
The humour of Graham Norton
13th November 2018
Chilli and lime chicken sandwiches for lunch
Being able to breathe lungfuls of fresh air - I love my little corner of England with its wide horizons and fresh air
Golden sunshine as I get ready to leave for work
12th November 2018
Boys dropped off on time at Nursery and school
John and Steph returned safely and had enjoyed themselves
Five hours of quiet - five hours in one session - five, ahh
11th November 2018
Remembering the ultimate sacrifice of so many to keep our land free
Ben and Max arrive at 8am for a 24 hour stay - I can do this, I know I can
Met my goal on steps for the day (see above!)
10th November 2018
Happy Birthday to Will - 33 today
My house becoming clearer as possessions are moved in a new home
My spare bed was made up and food cooked for exhausted Will and Alex whose bed was still in their living room in pieces.
9th November 2018
A restorative visit to the hairdresser
Reading, reading, reading, every single day a pleasure in the written word
Room for one more on top? The little lone bird on the right did eventually hop up!
8th November 2018
My compassionate son Will who buried my ginger hen with such gentleness
Knowing Ann - a lovely person who sat with an old lady she didn't know for over an hour waiting for an ambulance
The quiet and healing pleasure of baking
7th November 2018
Finished the day in a better mood than I started it
Chicken pie waiting for me when I got home from work
December is done - all twelve quilts finished
6th November 2018
Celebrating John's birthday. My little boy is 31 eek!
Laughing with Ben when I realised I'd bought him a 30th birthday card. Steph wasn't amused.
My Kindle reader. Used every night since Will bought it for me six years ago.
5th November 2018
Still watching the fireworks and savouring the smell of woodsmoke
Being there when my children need me
Ben being so kind and helpful with his little brother, setting up his toys and helping with derailments
4th November 2018
A quiet but productive Sunday - batteries recharging
Watching fireworks over the whole weekend - so pretty
Starting the stocking orders with coffee and a cupcake too
3rd November 2018
Online shopping when I can't be bothered to go out
Getting things finished at work after a really busy week - the new week can start from scratch
Ben gets a checkover from his daddy- everything is in the right place!
2nd November 2018
Brioche for breakfast even though it's not a weekend
Sharing jokes with people at work
Learning how to use some new software from the generosity of people on Youtube
1st November 2018
The little bird that sings outside my bedroom window in the morning
Bright sunshine after a grey start
Discovering the perfect fabric for a Christmas stocking order - starry blue- gorgeous
31st October 2018
Doing simple little things to make someone's day better - payback is enormous
Getting ahead with some baking
Choosing colours for the November Mini Quilt
30th October 2018
Being patient with someone who was lonely and just wanted to chat.
My beautiful boys (I could put that everyday)
Lemons - they freshen the microwave after Will has cooked eggs in it - yuk!
29th October 2018
Lots of cutting and prep work done today
Peaceful surroundings
Alex brought me some tomatoes from her hanging basket
28th October 2018
Meatloaf night with Alex and Will after they spent another day decorating their new house.
Lewis Hamilton is five times F1 World Champion
On the home stretch with my Worn and Washed quilt
27th October 2018
A cosy day inside when all outside is cold/bright/windy
Going to the cinema with Alex, Carol, (sister in law) and Chris (nephew) to see Bohemian Rhapsody (sob, sniffle, smile)
Max loves his ear defenders
26th October 2018
Switching off the alarm clock this morning and knowing I have 3 days without it
A raft of new projects swimming around in my head, digital and material
The bittersweet start of a new book knowing it's the last in the series
25th October 2018
Surviving the day - ha!
Getting some things finished on time and knowing the rest can wait
Cutting up honeycomb for a traybake and not eating eat
24th October 2018
A sunny breezy day so all the duvets, pillows and bed linen got a lovely wash and blow dry
A patient laughed for the first time in 30 years because he hadn't woken up with a headache
A little bit of stitching done
23rd October 2018
My lovely quiet home after an 11 hour shift
Contemplating al the lovely things I'm probably never going to make
Taking shabby chic that extra step - found on Instagram
22nd October 2018
Happy smiley people that make your day bright just by being there - thank you
Finding new blogs that make my heart quiver with their lovely handmade stuff
This time of year - planning family celebrations and snuggling under quilts
21st October 2018
Not minding that I didn't stitch much (family first!)
A luscious warm but refreshing breeze and bright October skies
Enjoying a good F1 race - Raikkonen wins at age 39 in a sport full of teenagers
20th October 2018
19th October 2018
Bright Autumn sunshine
Seeing Ben's face light up when I picked him up from after school club
A new book - Making children's Clothes by Emma Hardy
18th October 2018
John arrived in Dallas after an eventful journey and arrival
Lovely, lovely people at my class that make Thursdays such a pleasure
Real bread that doesn't turn into shrapnel when you toast it
17th October 2018
A quiet and gentle morning
Being there for John and Steph as they stress over their impending house move (yes both boys are moving house)
16th October 2018
Enjoying my work.
Being able to forgive Will for eating my macaroni cheese and not telling him he ate my tea.
Searching through my Scandi Christmas fabric and still going weak at the knees at all this loveliness after all these years of quilting
15th October 2018
British Gas Homecare who were there within two hours when my boiler broke down.
Finally sorting and shredding papers which have been in the to-do pile for far too long.
That delicious urge to create when I'm sorting through my fabrics to start another project.
14th October 2018
Supper at home with Alex and Will
Bright sunshine later in the day after a cloudy start - sunshine lifts the spirits so
An elegant read
13th October 2018
People I haven't seen for 20 years recognised me - and I them!
A lovely day crocheting and pottering
A comforting cup of Ovaltine
12th October 2018
A new central heating boiler at work
Polite people who always have a smile at the ready
Little buttons all in their packages
11th October 2018
The sweet aroma of Florentines baking in the oven
A bedroom is emerging as Will moves his gym equipment to his new house
The arrival of yarn for my Linden Bee Shawls (one for me and one for Karin)
10th October 2018
Watching crafting podcasts/videocasts at breakfast time
The sound of the hens in the morning heralding a new day
Doing more than I intended (full pictures at the weekend!)
9th October 2018
The new boiler is fitted at work. Not quite done. Weather keeps mild!
Hugs from loved ones.
The October Mini Quilt is pinned and ready to complete. (wrong side showing)
8th October 2018
Being cosy in the house whilst the wind whistles outside
The powerful vacuum cleaner at the garage
Painting little pumpkin buttons
7th October 2018
Having a whole day to choose what I want to do
Finding pretty fabric whilst searching for (and not finding) another fabric
Will has made a new feeder for the hens to make it easier for me to fill up
6th October 2018
Listening and laughing with Alex's story of her day of Ted Talks in Gateshead, vowing to go next year
Snatching a snooze on the sofa after work
Frothy flowers of Russian Vine hanging over the hen's pen
5th October 2018
The smooth welcoming sheets of my bed after a mammoth day/evening at work
Opportunities for quiet contemplation
The continuing beauty of Autumn
4th October 2018
A bright, low autumn sun in the east shining against dark grey clouds in the west, highlighting the golds and reds of the trees
Being right for once
Banana cream, choc chip cupcakes
3rd October 2018
John and I chattering over each other in the car because we have so much to say
Getting a lot of stitching done and writing a pattern at the same time
The lovely feel of linen after it's been ironed
2nd October 2018
Dappled sunlight through the tree canopy
The soft murmuring of the hens as they give you sleepy greetings
Madeleines and strong coffee for breakfast
1st October 2018
Watching Ben's excitement as he opens his birthday presents
A gentle and productive day at home
The anticipation of a new crochet blanket
30th September 2018
Lovely cloud formations from high upper winds and bright blue skies
A restful night's sleep
Finding and re-reading a lovely book
29th September 2018
Being able to make a last mixture decision to go to Yarndale
Getting home after a long drive home from Yarndale
Yarn, colour, enthusiasm - oh so much beauty
28th September 2018
Will and Alex have the keys to their first home - so exciting!
Looking forward to a long weekend - Saturday, Sunday and Monday
Everyone pitching in, customers, colleagues and patients for a successful Macmillan week
27th September 2018
Catching up with my daily Gratitudes
Being able to record TV programmes and watching them at leisure
26th September 2018
An unexpectedly warm September day - 21 degrees in the North of England!
Pottering around before work. No rushing about today
Making toffee sauce at 10pm and not being too tired to do it!
25th September 2018
Getting organised after a horrendous commute and everyone arriving 45 minutes late (all from different directions). A1 madness
Enjoying the fleeting colour changes of Autumn
Melted chocolate over toffee sauce over shortbread - what more can you say
24th September 2018
John is back at work after a week's leave. Order is restored in my universe.
Making Millionaire's Shortbread and not having to share the saucepan for the last little scrapings of toffee sauce
Pictures of the Harvest Moon over London last night
23rd September 2018
All night cuddles from Ben and Max- well until 4.30am which is Max wake up time.
Will has built a new section of pen for easier filling of the hens' food containers
22nd September 2018
A good listen on the way to and from work today - Lynda la Plante with Jane Tennison
Chicken Pie for lunch
Ben and Max are coming for a sleep-over
21st September 2018
Having a powerful hot shower
Cloud formations before during and after windy weather
Flowers still going strong 17 days after I bought them for £2 at Lidl
20th September 2018
The sound of rain on my window when I'm cosy in bed
Max running towards me and jumping into my arms
19th September 2018
I managed to restore my broadband connection without resorting to calling BT
Looking at tidy drawers - oh the pleasure!
18th September 2018
The pleasure of a clean and tidy house - well parts of it anyway. It's clean where it matters!
A concerted effort to tidy my drawers has revealed all sorts of 'lost' delights including my original planner from 1994, complete with a few photos
17th September 2018
An impromptu trip to Ikea (lovely to look at their room settings)
Warm September weather
Colourful binding
16th September 2018
Discovering that a quilt is closer to being finished than I thought
Having lovely neighbours
Chooks enjoying some bird seed
15th September 2018
A Saturday at home
Finishing the quilting on a UFO ready to bind
Don't seek and ye shall find - finding two wrinkled mini quilts which I'll quilt tomorrow
14th September 2018
A clean bill of health at the dentist
Being able to reassure nervous patients
A trip to fabulous Chinese Supermarket in Newcastle (HiYou)
13th September 2018
The bounty of autumn
A chocolate gift from a friend
Seeing people's lovely interpretation of my quilt instructions
12th September 2018
Seeing my boys every day even though they've both left home
Texting with friends
Listening to Cherry Heart Podcast whilst sewing circles
11th September 2018
I spied two apple trees in the wild hedgerow (whilst in queuing traffic!) laden with shiny red fruit
Enjoying the Great British Bake Off in my Golden Hour the morning after
Anticipating a Wednesday morning stitching and designing
10th September 2018
The abundant amounts of fruit in the hedgerows this year
My quiet little house after a stressful Monday
Vacuum cleaners and pressure irons
9th September 2018
Stitching before breakfast, housework before lunch, stitching before dinner
A lovely warm September day
Drop scones for breakfast - a Sunday treat
8th September 2018
The end of a fraught week! Computers errrrk!
The quit rhythm of stitches
Alex brought Plum Crumble cake for tea
7th September 2018
Pencil and paper - they don't need to be re-booted
A nice glass of ginger beer
Max has discovered pegs
6th September 2018
Being a bit better organised today
Watching the autumn colours emerge
Pumpkin love - 14" x 10" table mat
5th September 2018
Getting stuff done today quietly to save rushing tomorrow at work
Sorting out new baking recipes
Sharing a lunch with Will. I have been doing other things the last few Wednesdays. Mmm Frittata with cottage cheese, potatoes, bacon spinach and tomatoes.
4th September 2018
Antibiotics for Max's poorly ear
I found my new glasses which had been lost for a week
3rd September 2018
Roads still quite quiet despite rain and teacher training days
Dinner in the fridge
Who needs an alarm?
2nd September 2018
A productive day
The soft glow of the sunset after a lovely day
1st September 2018
Enjoying a peaceful hour after work before the family descended
The family descending
A new Shetland series book - oh no it says the final one 😢
31st August 2018
The end of the day - it was a long one! A hard week......
Enjoying the early signs of Autumn
Another enormous bag of plums from a patient at work.
30th August 2018
Car sharing for three days with John. We don't get time to chatter at work
Affinity Publisher Beta has finally arrived - yippee!
29th August 2018
Roads to work still clear for another week before schools go back
I got two new pairs of glasses (can't find the first pair???)
I managed to finish the little bag kit
28th August 2018
Still standing after a frantic day at work!
The Great British Bake Off started a new series today
Fresh clean water on tap, clean house, clean clothes, clean me
27th August 2018
A quiet and refreshing day
Being able to afford things I don't need
Made a lot of progress with the little Lynette Anderson Bag
26th August 2018
The 'worn and washed' quilt is nearly half way done.
A lovely long chat with a friend
Time to breathe
25th August 2018
Another Turkish meal out after work - this time with John, Steph and the boys - they were so well behaved (the boys!)
A quiet afternoon stitching, snoozing and watching the F1
Sandy the Dog had a late night so Ben tucked him in for a nap
24th August 2018
New glasses - eyes still in good condition
Lovely wild flowers along the road to work
Marks and Spencers Deli Food for tired girls - Sticky Salmon Caesar Salad
23rd August 2018
A glowing gibbous moon
A bunch of flowers from a friend
Nutella cakes
22nd August 2018
Choosing to slob out or get cracking on a Wednesday morning - today I slobbed out!
Chatting with John on our car journey to work this afternoon
Finding my hardly-used metal thimble to allow quilting with crochet thread to continue despite my sore finger
21st August 2018
Finished the diary structure at work - whew! what a marathon
Chattering with Claire about how much we enjoyed Mama Mia 2 - she just went at the weekend.
Reading until late because it's an afternoon start tomorrow (different book from audio book though. I have several on the go)
20th August 2018
A gift of a bag of ripe juicy plums from a patient
Getting more than one or two questions right on University Challenge (how do those young people have such a breadth of knowledge?)
Started a new audio book this weekend
19th August 2018
My lovely family - I love watching them chatter and laugh
Breakfast with Will and tea with Ben
A restful weekend.
18th August 2018
Lunch out with John at our local Turkish restaurant
Setting a new structure for our work diary - nearly finished
Having the opportunity of doing something I love - every day
17th August 2018
Working 'back-office' on a Friday afternoon
Excuses to bake more - Macmillan Coffee Morning Week plans!
Friday is Cake Day every week
16th August 2018
A busy day at work
Time to bake
Finding precious little bits of fabric - Nancy Halvorsen in this case
15th August 2018
14th August 2018
13th August 2018
Surviving the first day back at work after a week off - arghh it was so busy!
My latest book - A Villa in Italy - slow start but enjoying it very much
My new sticky tape dispenser
12th August 2018
11th August 2018
The kindness of Steph - she took me all the way to Birmingham and back
The ability to buy so many beautiful things - I'm so grateful I can get all these things and that people produce all of them
10th August 2018
Playing with Max in the garden - he's so happy it squeezes my heart
So many things crossed off my to-do list - quite a record
Another gorgeous sunset
One little blanket finished (32" x 21"), one more to do
9th August 2018
Being able to bake in the morning before the kitchen gets the sun on it
Listening to the children playing on the school field, laughing and shouting
Purple flowers (and they only cost £1.60 from Aldi - double gratitude)
8th August 2018
Remembering 8th August 1996 - a turning point for me
Spending time with the babies, heartstrings pulling like mad!
Another cheesecake, passionfruit this time
7th August 2018
A quiet day finishing things
Sorting and tidying my shelves
A lovely sunset - that would make a good fabric art subject
6th August 2018
Learning a new financial software package for the clinic - it seems straightforward......
The weather is fair and very pleasant - not too hot
Having a delicious cup of coffee and a lemon brûlée cheesecake
5th August 2018
A reasonably quiet and quite productive day
Chatting to my friend on our regular Sunday call
Sun-warmed strawberries - English are without peer
4th August 2018
No alarm to wake me up this morning
A takeaway indian meal for tea
Most of all a lovely day spent with a lovely friend doing something we both enjoy - what could be better?
3rd August 2018
A welcome haircut (shorter at the neck for maximum cooling!)
Ice cold ginger beer - and a little alcoholic too
The sweet smell of a cypress tree in the sunshine after a shower
2nd August 2018
1st August 2018
Celebrating the anniversary of of father's birth - an amazing man
A relaxed morning before work - happily stitching and painting in between chores
Little bee buttons ready to sew on
31st July 2018
My cosy little house after a long stressful day at work
An unexpected and welcome chat with a friend
Stopping off to buy some new floss - hooray for later opening hours!
30th July 2018
Gorgeous cloud formations - grey and pearly coral last night
More refreshing rain but still lots of sunshine
Left over nibbles so I didn't have to think about making tea at 9.30pm........
29th July 2018
Paper stemmed cotton buds are back
A visit to the cinema with Steph and Alex to see Mama Mia 2
A bit of time to sew, squeezed in to the afternoon
28th July 2018
A bit cooler today but still muggy (thundering as I write)
A little peace this afternoon before the boys come for a sleepover
I get to cuddle two lovely little chaps all night!
27th July 2018
A network expert came to see the computers - the server is reprieved!
A spectacular and cleansing thunderstorm - temporary loss of power but all ok now
A happy bunch of flowers - £3 from Lidl
26th July 2018
Leaving the computers at work behind for a few hours! Lordy they are being troublesome.
Happy faces at the quilt class - such lovely people - it makes my heart swell.
Joanne brought a scrumptious fresh cream chocolate and strawberry gateaux tonight. Oh my.
25th July 2018
Collecting my little buttons from the laser cutter man - new shapes to paint too.
A lovely piece of Brie de Meaux which gently eases itself into a new shape when I have cut a piece off to eat.
Some flowers and coloured leaves brighten the driveway at our Durham Clinic (we rent a room in a business centre once a week)
24th July 2018
A handful of jelly beans after some stressful computer problems
All the lovely fabrics I have to choose from
The August mini-wallhanging is prepped and ready to stitch
23rd July 2018
Enjoying the quiet roads as the schools start their summer break
Having a giggle with a patient who tells me a funny joke every time he comes
Listening to my latest audio book
22nd July 2018
We went to see Will and Alex's prospective house - the lady is a quilter! And the house is lovely too!
An exciting F1 with a good result for my favourite drivers.
Rediscovering some beautiful linen fabric
21st July 2018
Staying in my nightie most of the morning (no work today)
Not doing much of anything - resting my brain!
20th July 2018
The little boutique pub next to the clinic has guest 'street food' nights - today was Romanian street food - vegetables and rice wrapped in a cabbage leaf with pickled vegetables and sour cream
Looking forward to a Saturday at home stitching
Enjoying the early morning sunshine and shadows
19th July 2018
Our front desk workforce is back up to full strength
The quiet industry of women sewing together
A little bag for my crochet
18th July 2018
17th July 2018
A wonderfully perfumed morning after the rain
Working in a back pain clinic and helping people to get better
My next door neighbour planted a little bee garden
16th July 2018
Some rain!
A dramatic lightning show this evening - animals safely tucked away
Homemade vegetable pakoras for lunch
15th July 2018
Cooking a few meals for the week while the kitchen was still cool
A lovely breeze to offset the high temperatures
My beautiful hens for laying such delicious eggs
14th July 2018
Giving yourself a chance by making a little more effort
A chance to rest my weary body after a long hard week
I got myself a yoghurt maker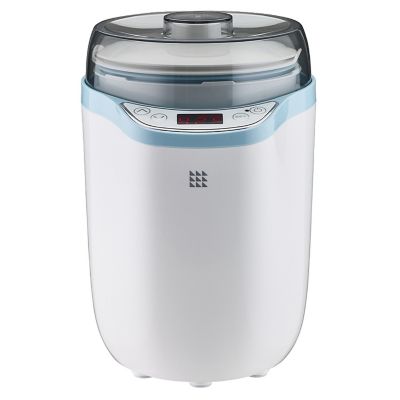 13th July 2018
Fresh raspberries for breakfast
A life affirming attitude (see below French Women don't get Fat)
Glorious sunny days
12th July 2018
The end of a long day- Ha!
A lovely patient who always tells me a joke and makes me laugh
Chicken and Avocado Wrap for lunch
11th July 2018
Getting to grips with the housework. Brendie 1 - 0 Lethargy
My fit bit shows a daisy when I meet my activity targets
Everyone applauded the efforts of the English Football Team


10th July 2018
A long but productive day at work
My back is getting stronger
Over half way through the two little blankies. 108 squares needed in total
9th July 2018
A little cooler but still summer
What a good read!
8th July 2018
Slow Sunday
My morning shower - starting the day fresh and alert
Good neighbours
7th July 2018
An early finish from work on Saturday allows for a little sneaky siesta!
The warm weather continues and a light breeze makes it even better
6th July 2018
The welcoming embrace of quilting friends
A thoughtful and welcome card from a friend
The smell of fresh baked peanut butter and chocolate chip cookies
5th July 2018
Will and Alex are so excited about their new house
Some lovely yarn arrived - I'm itching to get some more circles done
4th July 2018
Beautiful cloud formations as evening clouds are lit by the sun
Feeling positive about my plans for the future
Discovering a new recipe - courgette and chick pea flan
3rd July 2018
We sorted the backlog from the computer glitch- normal service resumed
I'd prepared a double helping of pasta last night so there was a dish in the fridge ready tonight
A new book to read and be inspired by
2nd July 2018
The end of the first day back to work (one off sick, one on holiday - errkk)
Making a flan with chick pea flour instead of eggs (for a change, not because I don't eat eggs)
A kind thought from a friend I haven't seen for a long time
1st July 2018
My lovely home with its familiar things
Wishing Steph a happy birthday today, with Will, Alex, John and the boys
Max likes playing with my crochet hooks and watching the Grand Prix - where did he get that from?
30th June 2018
29th June 2018
The server at work is repaired after something fried.
Had a lovely snack in a tea room in Washington
Met with a laser cutter who is going to produce some of my button designs - squeak!
28th June 2018
A safe journey home - Malaga airport crowds not withstanding
A good cup of tea made with familiar water
My plants are still alive after a week without rain
27th June 2018
Having had such a lovely break in the sun
Having a laugh (too many mojitos)
26th June 2018
Everyone takes turns to make sure Max is safe
Alex and I roasted some vegetables for lunch
The blossom of the jacaranda tree (sorry not blossom, it's part of the leaf)
25th June 2018
Watching the pretty (but as yet) unidentified birds roost tonight
One of the best ice-creams I have ever had right up the mountains in Competa
24th June 2018
Spending time talking with my boys on my birthday
A quiet afternoon on the beach and an amazing salad for lunch
23rd June 2018
22nd June 2018
21st June 2018
Seeing so many people at Richie's funeral - he was a very special person.
20th June 2018
A conversation with John via WhatsApp, watching Max laughing on the swing.
Getting Will and Alex sorted for their flight
The amazing smell of my new climbing rose
19th June 2018
Time spent with Carol composing the order of service for Richie, laughed, cried and was surprised at the things I had forgotten and remembered.
The wedding party arrived at Sayalonga safe and well and I'll join them on Friday
Having the desire to get back to my gratitudes page
18th June
Last day at work until 2nd July - lots of sad and happy times to spend over the next couple of weeks
Steph collected Karin and deposited her at my house.
Karin and I laughed and laughed - she is such good tonic
17th June 2018
Alex and Will have seen a house that they both love - fingers crossed!
A lovely platter of Roast Beef for Sunday lunch with the family
16th June 2018
Arriving back home (after a horrendous afternoon at the Metro Centre getting stuff for the wedding - Saturday afternoon - never again!)
Ibuprofen - I hardly ever take it but I have a bulging disc. Oh ouch!
15th June
Our new receptionist is settling in well - takes the pressure off Claire and me
Eating chocolate brownies - om nom nom
14th June 2018
13th June 2018
Alex's chilli and rice waiting at home after a long day
12th June 2018
The gentle comfort of friends
11th June 2018
Sharing 63 years of this glorious life on earth with my brother, who died today, one month after being diagnosed with lymphoma.
10th June 2018
My lovely, mad, generous, exuberant family
The peace that stitching imparts
Mowing the lawn with straight lines
9th June 2018
The smell of fresh cut grass
The generosity of brother to brother
Catching a leaf-cutter bee flying into a hole in the wall on a magic carpet - I hope it's not from my bay tree or rose bush!
7th June 2018
The abundance of growth in the garden
People who see things through to the end despite the rocky road - what an inspiration
The taste of Ovaltine transferred to a cupcake
6th June 2018
A Walnut Whip in the cupboard I'd forgotten about
Watching Bob Mortimer on YouTube
The soldiers of the D-Day landings - my undying gratitude
5th June 2018
The swathes of daisies along the roadside
Fresh juicy fruit - day two of juices
Sinking into my lovely welcoming bed!
4th June 2018
back to work and routine - I love routine
Still lots of blossoms on hedgerows
Day one of Juice Week successful Kale & Apple, Spicy Beetroot
3rd June 2018
Being able to take it easy when my back has flared up
Shopped for lots of fruit and vegetables - turning my back on crappy food habits which have crept in over the past few months - again
Max's 3rd birthday - no fuss, just lots of joy- a simple cardboard castle and a water play table which he climbed straight into! (No water indoors)
2nd June 2018
John and Steph returned safely from their whirlwind honeymoon
Alex and Will arrived safely in Fort William
Ben asked me to make a 'blankie' for his toy dog



1st June 2018
Apricot beer at the end of a long hot day
The charming innocence of children
Steph and John have tied the knot
31st May 2018
Dental Hygienists - keeping my old teeth sound
The healing power of fabric
Fridges to set chocolate in the heat - mmm, apricot flapjacks, chewy and sweet
30th May 2018
Membership of the AA when John drove over a brick (why don't cars have spare tyres anymore?)
Steph had cooked some ham and gave my a thick slice to take home for tea
I saw a swallow - so late this year but they are here!
29th May 2018
28th May 2018
Lunch with Will and Alex at their new (temporary) home
Max is making much more eye contact - slow progress but progress none the less
27th May 2018
Preparing projects to be picked up when the fancy takes
An energetic morning, sun shining birds singing
Watching F1 from Monte Carlo and stitching on more leaves
26th May 2018
Being able to chill- nothing planned
An extra day to spend at leisure (Bank Holiday Monday)
List which keep my days on track
25th May 2018
A quiet drive home from work
Being excited about a new quilt idea
The ingredients for tonight's cakes are all weighed out ready to mix
24th May 2018
A smooth day at work with smiling clients
Watching people create beautiful quilts
23rd May 2018
I managed to get a second coat of paint on the fence today and start the gate
Will cut the grass and cleaned the mower down
The July Mini quilt pattern is written
22nd May 2018
21st May 2018
Not such an empty nest - my fledglings are popping back and forth - breaking me in gently
Birdsong wakes me every morning - I think I said that already but it makes me smile!
I crocheted some more squares - and have decided not to make a full blanket from this yarn
20th May 2018
19th May 2018
Enjoyed some Royal Wedding highlights - loved the dress
Step one - bought the paint for the fence
I bought some lovely climbing flowers to go along the fence - including a couple of clematis
18th May 2018
A lovely hug from Max all cuddly in his PJs and Ben, fresh from the bath eager to show me his latest bruise.
Will and Alex's excitement as they prepare their new home (bittersweet for me of course)
A little gift of afternoon tea from Steph
17th May 2018
I managed to call in to collect my new lawn mower
Lemon bars are chilled and ready to cut for the class tonight - no hot kitchens this afternoon
The new yarn arrived - Scheepjes Secret Garden - 219 squares to go!
16th May 2018
Will told me to give him a ring if I can't get the lids of jars when he moves out. Ahhh...
The dust behind the sofa wasn't as bad as I thought it would be
The blackbird nesting in my Choisya bush doesn't fly away anymore when I am in the garden
15th May 2018
Being able to get things off my chest to people who do not judge
Things all in place for GDPR at work
14th May 2018
Happy birthday to my mother who died 10 years ago. An amazing women and a source of great inspiration for womanhood, generosity and undying love.
John safely back from a trip away.
My bee bag well on the way to completion
13th May 2018
Birdsong - what a wonderful start to the day
Having time to do my stitchery (i.e. being able to ignore the mess around me)
Making mousse with Alex - with Mint Aero Bars
12th May 2018
Alex - she is everything a mother could want for her son
Having people to miss when they aren't there
My new book arrived and I couldn't resist a little triangle
11th May 2018
10th May 2018
Getting away from work in time to bake without rushing
Ordering a new crochet book I don't need (yes I do need!)
Ann's quiet determination
9th May 2018
Chatting with friends
Changing my mind about the new bag design
Starting the stitching - how I love doing this!
8th May 2018
A light rain to water the garden, but still fine weather
A new audio-book - The Teacher by Katerina Diamond (a little gruesome)
7th May 2018
Meeting someone I hadn't seen for nearly 25 years
A celebration tea with friends - old and new
6th May 2018
Watching Ben eating his egg and soldiers for breakfast, holding back the urge to sweep him into my arms and hug him with all my might
Having all the windows open all day and breathing in fresh warm air
Little beads of dew on the leaves - looking like crystals sewn along the edges
5th May 2018
Ben and Jerry's Cookie Dough Ice Cream
Another sunny day from dawn to dusk
4th May 2018
Sunny all day - hope it lasts the weekend too
Four hours work tomorrow then off for two and a half days - in the garden!
My bounteous little henny-pens
3rd May 2018
Driving home to my current audio book, Entry Island by Peter May - I didn't mind the traffic jams today.
Reading other people's blogs
2nd May 2018
The smell of Johnson's Baby Powder
The sunshine when it looked like rain was setting in
1st May 2018
My first anniversary at the Clinic - a year with my boy and we're still speaking!
Remembering to wonder over the small stuff
Finding a perfect bee button in my collection
30th April 2018
29th April 2018
Chatting about everything and nothing with my lovely friend Karin
Watching a really exciting F1
28th April 2018
A whole Saturday at home hand-quilting
Getting the weekly shopping so that Sunday will be uninterrupted
Fresh crisp cotton sheets
27th April 2018
Takeaway deliveries when I'm too tired to think
Books - a paperback, one on a Kindle and an audiobook - all at the same time!
De-stressing by making lots of dots
26th April 2018
Preparing my patterns the day before class
Carefully sorted files - I should keep them like that all the time
Ann has finished her quilt!
25th April 2018
Having a lovely quilt supplies shop near my home
Tender green shoots finally appearing
Pink roses with green edges
24th April 2018
Back to normal routine - this makes the 'abnormal' more special
Waking up to the nearly finished baby quilt top
An impromptu soup - left over broccoli and a tin of chick peas with a few spices and some seeds
23rd April 2018
A day off to catch up - spent entirely making a baby quilt instead
Watching the Book Thief with Alex, both of us sobbing at the end, grateful for the peace we have now
Painting BAKE letters duck egg blue
22nd April 2018
Coming home - John and Steph home safe, their little family reunited
Will making cheeseburgers for Sunday lunch!
Purple and bronze together - loving my latest blanket - a quarter done now.
21st April 2018
Peace- lovely peace - no electronic sounds, no telly, just birdsong
Alex and Will coming over to entertain the boys with footie
A cold beer and curry (all calorie counted)
20th April 2018
Mirrors at the right height in my house (all John's are set for tall people)
Max did well with his PECS communications practice today and matched some animal shapes too
Cousin Gracie came to play
19th April 2018
Ann's quilt is nearly finished - it's been a marathon
John and Steph arrived safely in Spain
Time with Max on his own - doing what boys do best
18th April 2018
The plasterer came on time and the hole in the ceiling is no more
All the ironing done and the house looks neat as a new pin
Finished work by 7pm and home to pack my stuff for the stay at John's
17th April 2018
A good belly-laugh with a patient yesterday about memory loss
Greek salad - it takes me instantly to the sun-kissed shores of Corfu
Dr Karl's podcasts (Australian Broadcast Company)
16th April 2018
Roads still quiet this morning
Marks and Spencer's green vegetable medley
DI Tennison prequel on audiobooks
15th April 2018
John cleared some space from my hard drive
Ben and Will enjoying each other's company
Cinnamon roll and coffee for breakfast whilst watching the Chinese F1 at 6.30am
14th April 2018
Car sharing to work with my lovely son
Cuddles from Max and Ben in a sunny garden
A simple supper - macaroni cheese with tomatoes
13th April 2018
It looks like the rain is easing off and the forecast is warm
I've treated my computer to some more hard drive
A trip to the hairdressers for a good laugh with the colourist and a head massage
12th April 2018
Struggling today! Absenteeism meant I had to miss my class.
Ok then - having something I love doing so much that I really miss it when I can't go!
Walnut bread, strong cheddar and a cup of coffee
11th April 2018
A quiet supermarket
Chatting with a patient who had been rushed to hospital and still managed to laugh about it
Deciding to swap my shopping list topper even though it's still freezing cold
10th April 2018
Ha! The heating. We turned it back on again!
Will's big heart, a birthday card to a nonagenarian who thought he didn't have anyone left to send him a card. Will got signatures from all his own friends who sent messages thanking him for his bravery in the war.
Claire making me laugh when I was feeling down.
9th April 2018
We had to turn the heating off at work because it was too warm
Will back safe from his trip to Norfolk
The rabbit was pleased to see me (why I ask myself?)
8th April 2018
Mild weather two days running
Labour saving machines make my Sundays easy
Having time to relax and create
7th April 2018
The ability to record TV programmes whilst I'm out
A fridge full of food so I don't need to go shopping
6th April 2018
Quiet time in the back office to catch up
A lovely sunny day
The yarn arrived to finish my Moorland Blanket
5th April 2018
Happy people at work is the norm
A thoughtful gift from a friend (thank you K!)
A new recipe- flapjack with attitude
4th April 2018
The leaky pipe is fixed (it's not dripping through the ceiling)
The leaky pipe is fixed (the boiler doesn't depressurise)
The leaky pipe is fixed (no bucket in the middle of the dining room)
3rd April 2018
Quiet roads on the way to work
Listening to a good audio book
Reading a good print book
2nd April 2018
1st April 2018
Alex got the job she was interviewed for - Yay!
Two days of rest stretch ahead
A lovely gift on my little work table when I go up this morning
31st March 2018
Home from work - it was a long day
A takeaway chinese meal
A lull in the rain so I could get the shopping
30th March 2018
29th March 2018
Bright fresh mornings with cool clear air to breathe
Blueberries and raspberries for breakfast
The arrival of my new yarn - squeak!
28th March 2018
Steph covering my shift at work this afternoon
An ability to ignore the mess - carpets fitted tomorrow
A fresh cup of coffee
27th March 2018
Cool water and paracetamol
Sleep
Kind messages from my lovely friend Karin
26th March 2018
A Cheese and Pickle Sandwich
Deciding to make my Moorland Blanket a bit bigger
Will's amazing network of friends, this time a carpet fitter.
25th March 2018
24th March 2018
23rd March 2018
An early finish at work
A Caramel Egg McFlurry (you naughty, naughty thing)
A trip to the Cotton Tree to see my lovely friend Jan
22nd March 2018
Warm Weather - a balmy 12.5 degrees!
Ann's sense of humour
A new recipe for Carrot Cake
21st March 2018
The leak is fixed! Hot water and heating restored- hooray.
Coming home to lovely broth
Baby fruit bats
20th March 2018
Finding the leak on the heating system and it is not underground!
Mindless but ultimately entertaining television
Switching off my alarm clock for Wednesday morning
19th March 2018
Clear run to work - no snow, no traffic (well relatively speaking!)
Late opening supermarkets
18th March 2018
17th March 2018
Will arrives safely with Alex despite more snow forecast
My tumble dryer
16th March 2018
An early finish after a hard couple of days at work
Claire's kindness
John better after family tummy bug strikes
15th March 2018
14th March 2018
Emergency plumbers
Pretty pink polka dot fabric
Cosy quilts to wrap round me when the heating is playing up
13th March 2018
12th March 2018
11th March 2018
10th March 2018
Chatting with John in the car about rugby
Spaghetti and meatballs for tea - years since I had this
WhatsApp - sharing pictures in an instant
9th March 2018
Sunshine nearly all day
A Takeaway Thai meal waiting for me at home
Ideas swirling in my mind for new designs
8th March 2018
7th March 2018
Sticking plaster when I grated my little finger
Cheerful patients, even when the are in pain
A clean tidy kitchen
6th March 2018
Coming home to a warm house - 13 hours after I left for work
My hard working sons
Marks and Spencer's Gastropub Cottage Pie - worth every calorie
5th March 2018
Audiobooks in a traffic jam (Part 3 of the Lewis Trilogy)
An uninterrupted water supply
Peace and quiet after a hectic day
4th March 2018
3rd March 2018
2nd March 2018
A cup of fresh hot coffee to start my day
Clear roads to work
Purple flowers
1st March 2018
Dried apricots reminding me there is sunshine
Walking boots that keep your feet toasty in the snow
Local shops just a short walk away